Oven Tamer 2-3 Upgrade
Oven Tamer 2 to Oven Tamer 3 Upgrade
Check Shipping Cost
Enter your destination to get a shipping estimate.
Shipping estimate for destination:
, ,
Quantity:
---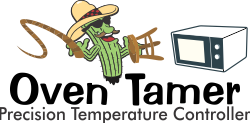 This is an upgrade program to upgrade your Oven Tamer 2 to an Oven Tamer 3. The new Oven Tamer 3 incorporates a failsafe alarm mechanism that will automatically turn off the power to the Oven Tamer as well as the Oven and prevent it from coming back on until you manually restart it. This safety mechanism activates in the event the solid state relay in the Oven Tamer fails in the on position which could cause the temperature to rise dangerously. It also will turn off the power to everything in the event you happen to catch a piece of wood on fire in your oven. This will not necessarily put the fire out but at least the oven will not continue to contribute to the fire.
To be perfectly clear, I have not had any known issues with Oven Tamers failing and causing fires so this is just an added safety feature. Call it insurance if you want!
This upgrade includes complete disassembly and inspection of your Oven Tamer 2. The added safety mechanism with its associated wiring will be installed as well as a new rear panel to accommodate the mechanism. Any minor parts in the existing Oven Tamer that show wear will be replaced at no cost. It will then be tested and calibrated as needed and shipped back to you. The shipping charge on this order is the return shipping to you. Anticipated turn around time on this upgrade is 3 business days or less. Please be sure to send it back with the thermocouple so it can be tested and calibrated as needed!