Oven Tamer II Precision Temperature Controller with Auto Off Timer
Oven Tamer II Precision Temperature Controller with Auto Off Timer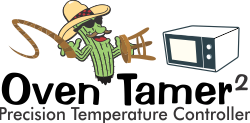 Take back control and tame your oven with my new Oven Tamer II Precision Temperature Controller! Yeah, I know, it is a little pricey but the benefits will make it more than pay for itself in the long run! Not only does the Oven Tamer II make setting and switching temperatures with precision super easy, it will also allow you to cure your Cactus Juice stabilized blanks at a lower temperature which will reduce bleed out and make a better finished product! The Oven Tamer II also includes a count down timer that will automatically turn itself and the oven off so you can set it and forget it!
The Oven Tamer II uses precision PID control to maintain the temperature within 1°F +/- of the set point which will allow you to cure your blanks at 180° F rather than the normal recommended 200° F. This lower temperature will reduce the bleed out of your Cactus Juice and keep more resin in the blank where you want it! The large digital shows you both your set point and the temperature inside the oven at a glance and maintains that temperature with precision. The included alligator clip temperature sensor makes it easy to move the Oven Tamer II from one oven to another if you use more than one oven. The Oven Tamer II adds a countdown timer that will automatically turn itself and the oven off once the time you entered has elapsed.
All Oven Tamers are assembled in my shop in Texas by me personally from high quality components and a very high quality enclosure box made by me. I do all of the wiring, CNC work to make the face and back plate, and all of the testing. Your Oven Tamer II will be calibrated before you receive against a NIST reference thermometer to insure its accuracy. These are heavy duty and made to last as well as look really nice. They are not made for me by some "toss it together" electrical fab shop overseas. The internal components are of foreign origin but I try to use as much USA made components as reasonably possible.
Features:
Easy to set and change temperature with digital display-no more guessing or messing with an oven thermometer!
Precise oven control with an accuracy of 0.2%
Integrated countdown timer for auto shutoff when the set time has elapsed (up to 24 hours) includes a stay on feature as well
Alligator clip type K thermocouple (temperature probe) to easily move the controller between multiple ovens
One push auto tuning PID controller to automatically program the controller for your specific oven parameters
Lower cure temperature possible for your Cactus Juice stabilized blanks to reduce bleed out
Solid State Relay with thermal greased heat sink for silent operation and longevity
Includes:
Oven Tamer Precision Temperature Controller with PID controller, integrated 24 hour countdown timer, 125v power cord socket with integrated fuse (similar to computer power socket), thermocouple socket, and 125v three prong power outlet
5' long type K alligator clip thermocouple with plug
3' long 14 AWG (15AMP) heavy duty 3 prong power cord
Specifications:
Input Voltage: 125v AC
Output Voltage: 125v AC
Output Current: 15 AMP Maximum
Thermocouple Temperature Range: -22° F to 925° F (Higher temps are obtainable with different thermocouples, contact me for details)
Countdown Timer: 1 minute increments up to 24 hours
Please note: The Oven Tamer may not work on a digital toaster oven. To test if it will work, set the temperature on your oven to any temperature you want and unplug it from the wall and then plug it back in. If the oven resets to 0 or any other temperature than what it was set to before being unplugged, it will NOT work.
Assembled in USA from domestic and foreign components
A special thank you to my friend Steve Pritchard who graciously helped me with the basic concept and wiring diagram!